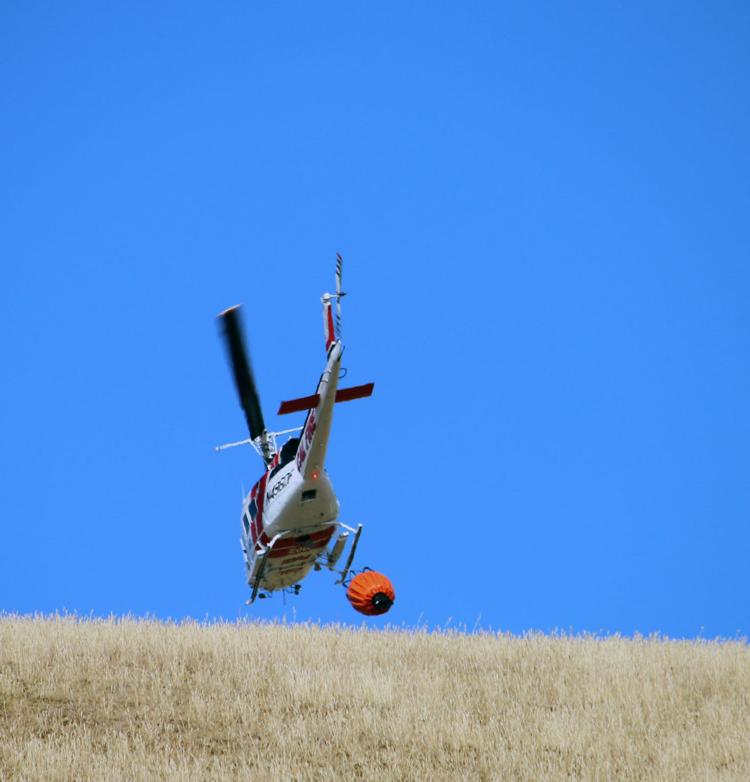 More than 10 area engine companies, including at least one from as far away as Denair, along with CalFire units from Santa Clara County, responded to a fire in Del Puerto Canyon that burned 144 acres of range land before being contained early Thursday evening. Several bulldozers were also used to cut fire lines.
All told, more than 10 local engines, and more than local 30 firefighters, were on scene to fight the blaze. There were also several CalFire engines, bringing the total personnel to 40 or more.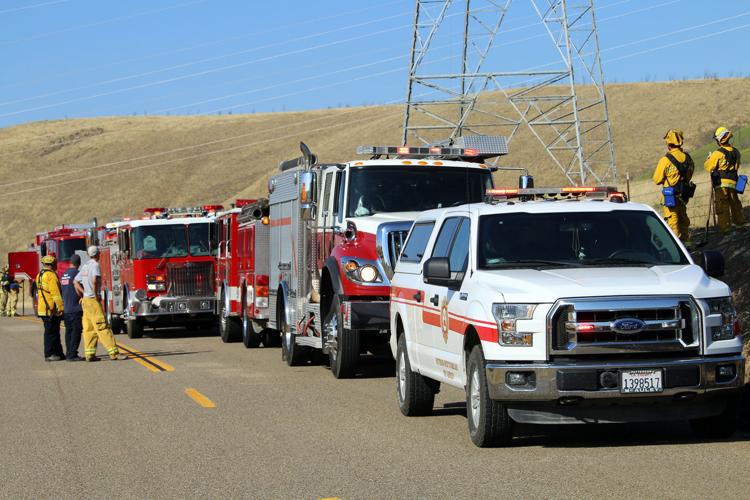 An engine from the Turlock Fire Department also assisted, providing coverage within city limits while local crews were deployed up in the canyon.
The fire call came in around 4:30 p.m. on Thursday. Within a short time, engines and crews from several other jurisdictions were on their way to lend aid.
The mood on scene was serious, as crews worked to confine the flames. This fire, already covering a couple of hills, was unofficially estimated to be about 110 acres when crews arrived, and grew to just under 15 times the size of the 10-acre one that occurred last year around this time before it was contained.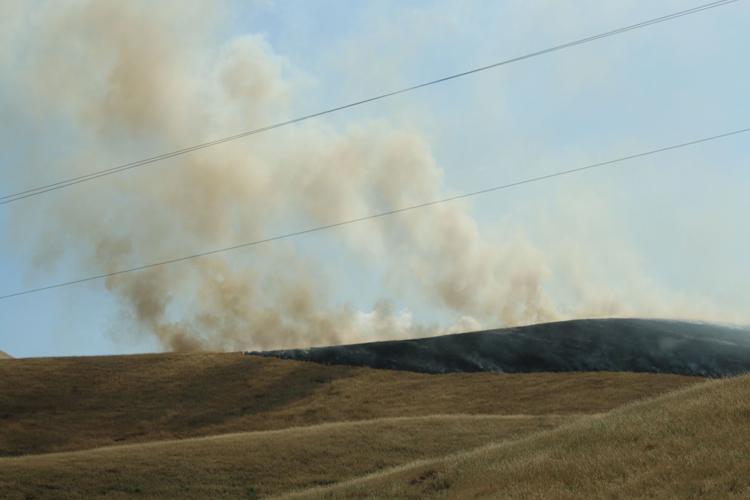 The blaze was contained several miles away from the Diablo Grande settlement to the south and west. The settlement was never in any danger from the fire, Patterson / West Stanislaus Fire Protection District Fire Chief Jeff Gregory confirmed.
With all the resources devoted to it, the blaze was quickly brought under control. As fires have been increasing in both numbers and severity in California, fire officials are more likely to pull in additional resources early on, Gregory confirmed. "The quicker we control the fire the better; there is a lot more (vegetation) than past years, and fires are going to move quick."
The gusty wind added to the challenge.
The bright spot is that "communications within the county has improved, (which allows us) to get the needed equipment quicker," Gregory said.
Patterson and West Stanislaus Fire units were initially assigned to the call, and CalFire, which manages vegetation fires, Gregory said, took over managing the blaze. The Patterson resources were sent out first because the fire was originally thought to be within city limits.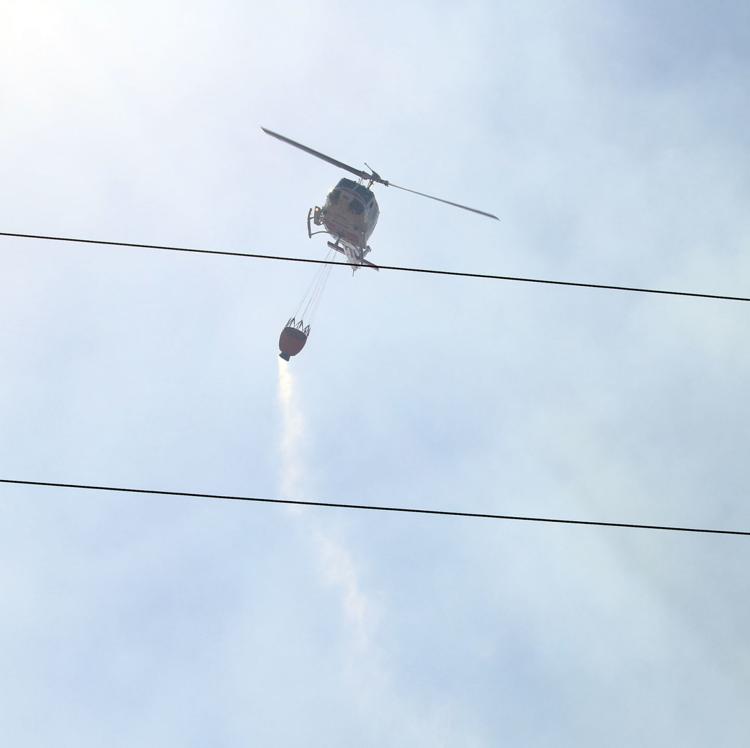 Both a CalFire helicopter dropping water from what's called a "Bambi Bucket" and a plane dropping fire retardant were used to control the blaze. Gregory it's "very common" to use both types of resources on such a fire. "It helps slow down the forward progress so engines and hand crews can contain it."
The Bambi Bucket, which holds 350 gallons, was refilled several times from the Delta Mendota Canal. Interestingly, when the water was dropped on the fire,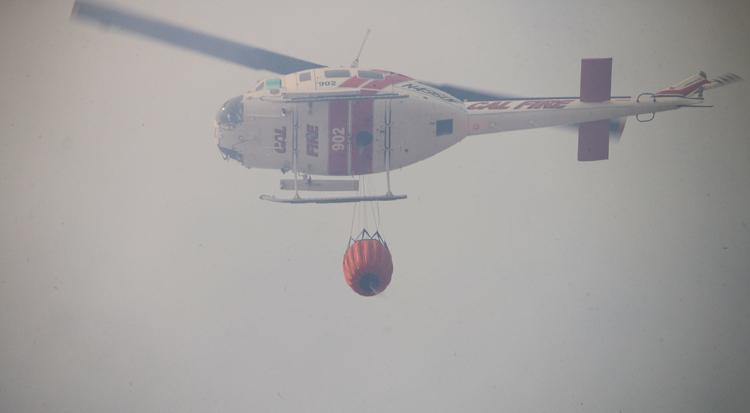 droplets could be felt from about a quarter of a mile away.
A former pilot told the Irrigator that flying in the same airspace with another aircraft in good conditions can be challenging; flying so closely together while trying to fight a fire, which generate their own wind, Gregory said, must be extremely difficult.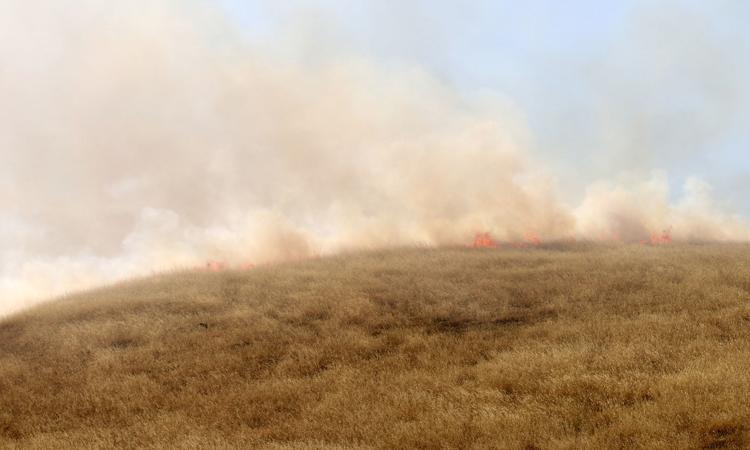 The fire was shown as fully contained as of 8:01 p.m. Thursday night.
The cause of the fire is still under investigation.
While the hot and dry summer months have traditionally been considered fire season, Chief Gregory observed that now, the fire season "doesn't have a start or stop date. We have been sending the (Office of Emergency Services - OES) engine to incidents throughout the state in November and December the last couple years."
(Editor's note: Many fire departments have OES engines, which they are able to use as needed, in exchange for sending strike teams when they are needed to fight fires in other areas.)
Asked if new guidelines or recommendations have been issued in light of the recent wildfires, Gregory said, "The best thing people can do is keep brush and debris cleared from buildings, as well as overgrown trees above them."
Some general fire prevention recommendations are listed below.
Make sure cigarettes and other flammables are completely extinguished before discarding – especially from a moving vehicle. Cigarette butts can smolder for days, and they can potentially start a fire at any time until they're completely out. Placing them in a cup of water or other non-flammable liquid (such as the last bit of coffee or soda in a cup or can) will ensure they can not spark a fire.
When pulling a trailer, make sure the safety chains are secure and not dragging on the road (this causes sparks and can repeatedly start fires while traveling).
Clear leaves and other debris within 10 feet around your home and garage.
Keep smoke and carbon monoxide detectors in good working order. Replace the batteries twice a year; daylight savings "clock change" is a good time to do this. According to Chief Gregory, even the detectors that are plugged in have batteries as back-up, and they should ALL be replaced at the same time. Smoke/carbon monoxide detectors should be replaced every 10 years.
Never pour water on a grease or gasoline fire.