The things that made the City Council meeting notable Wednesday night were not the items about gating the entrance to Redbridge or minor changes to the International Park of Commerce, but the appearance of two sitting councilwomen at the public comment podium making separate allegations of fostering hate in the community.
The special meeting was held Wednesday because of the election Tuesday. It began with some presentations, a short consent calendar and the first public comment opportunity.
Several people rose to protest a campaign mailer that hit Tracy mailboxes Friday. The flyer superimposed the images of candidates Dan Arriola and Dotty Nygard as well as Councilwoman Rhodesia Ransom over an image of an MS-13 gang member, who has identifying tattoos on his face and torso.
Under the heading "My Opponents Hidden Agenda," the flyer states that Arriola "could be the third vote for tent city." It goes on to state that "Ransom and Young both failed to bring the tent city to Tracy" and that Nygard and Arriola "support their hidden agenda to bring these tent cities here."
Arriola, who was elected to the City Council on Tuesday, repudiated the mailer on Saturday.
"MS-13 have victimized thousands of people and done reprehensible things. To be juxtaposed next to them is simply unacceptable," he said. "Their reputation is one of being one of the most dangerous gangs in all of America. They're known for engaging in murder and violence, human trafficking, narcotics sales. To be placed in an ad next to them, to imply that I have any connection to gangs, is disgusting."
One woman who spoke at Wednesday's meeting held up the flyer, calling it "a disgusting piece of filth."
After two comments, only one of which was about the flyer, Ransom rose from her seat at the dais — where councilmembers normally speak from — went down and took the podium to make a 2-minute, 10-second public statement condemning the mailer.
"The entire presentation of that flyer is exactly a culmination of what her methodologies are: Get what she wants by any means necessary. It's been harmful to the community at large," Ransom said Thursday morning about what motivated her to speak as a member of the public and not from the dais as a councilwoman. "I've been watching a lot of people be hurt and our city be hurt by these 'any means necessary' approaches."
Ransom said she spoke to let the community know that the messaging of the political piece did not reflect most residents and that the public should hold the entire council accountable for allowing such speech.
At the end of that public comment time, Vargas, who stepped out briefly but was present for most of the speakers, said she was responsible for the content of the flyer, that it should not have been issued and that she was sorry for that.
No one knew it yet, but Councilwoman Juana Dement had a problem with Ransom's speech and rose to voice it during the second opportunity for public comment at the end of the meeting.
"She talks about a disgusting mailer and what's she's had to go through for the past two years and on and on and on," Dement said Thursday. "Basically making sure that the world knew about how she felt. I felt very compelled to, basically, answer to a few of those allegations."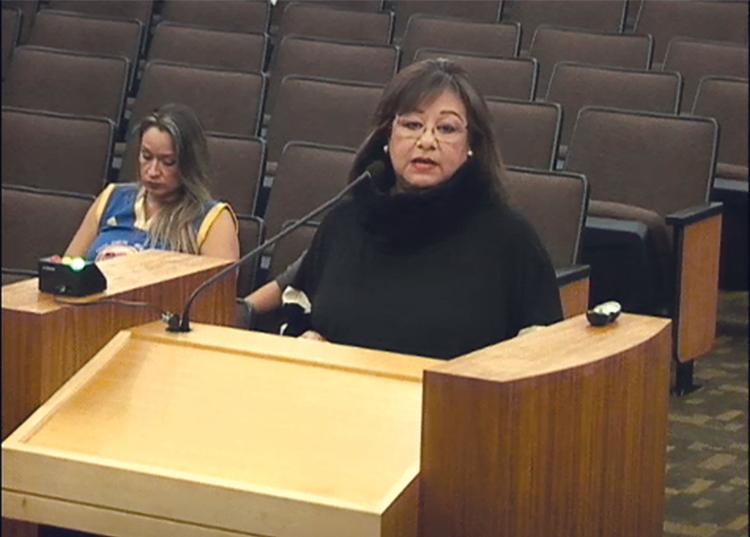 Dement said she found it disturbing that Ransom would rise to condemn the hate she found in the mailer but would say nothing about allegations that victimized a local woman that same day. The San Joaquin Pride Center issued a news release Friday that called for a rally against hate at City Hall that evening, accusing a Tracy woman — identified by name — of writing a homophobic blog against Arriola. The Pride Center, which the Press tried to reach multiple times, removed the woman's name from its online materials within a day.
The Press has spoken with the individual, who maintains that she did not author the hate blog, and will not name her to avoid further victimization.
"I reminded her that both she and Mr. Arriola, both elected officials, decided to run with that and incite an antihate rally in front of City Hall," Dement said. "I'm reminding them that they are part of the damage that has been done to the real victim in Tracy. She's the one really who was victimized. She was bullied. She happens to work for my company and my company name is out there. So I feel, in a sense, a little violated too. Where is her apology? Where is her rally?"
Ransom disputed Dement's conclusion.
"I absolutely did reach out to our community member," Ransom said. "I made it clear that I didn't think anyone should be attacked for anything. I even took the extra steps to check in with the Pride Center and was told they already retracted their press release. I disagree that I didn't do anything for the community member."
She added that it was possible that Dement was not aware of her interaction with the woman.
"It just an ugly situation," Dement said. "It's crossed every single border of decency for two elected officials to have what I call 'selective hate.' In trying to protect a perceived victim, Dan Arriola, they created a real victim."
Dement said the news release ruined someone's life.
"There's been no retraction by the Pride Center," she said. "There's been nothing by Mr. Arriola and Ms. Ransom to stipulate that we ran on erroneous information and they regret doing that. Nothing."
Ransom said that the people who attended the rally were not showing up to pillory any one person.
"The people I spoke to were disgusted that people were calling out Daniel Arriola in regards to his sexual orientation," she said. "It was a rally against hate. It was not a rally against a community member."
Dement said she found Ransom's previous calls for council unity in public and in the Tracy Press disingenuous.
"You're going to come up here and talk to us about healing when basically you are the main offender," Dement said, adding that Ransom creates division. "Whatever decision is made on the dais is made on the dais, whether I agree with it or not. I have to go with it. What I don't do is I don't have a rally, I don't call you, I don't put out an op-ed piece. I don't do any of that stuff. Been on a lot of boards and a lot of committees and there's been a lot of times when things don't go my way. But the democratic thing to do is to continue the work for the organization that I represent. The more I talk about it, the more I complain about it, the more that festers."