A line stretched out the door and down the block Tuesday morning as parents waited for hours for a chance to sign their children up for an after-school program through the Boys and Girls Clubs of Tracy.
Tony Cardoso joined the line outside the Richard O. Hastie Clubhouse on Lowell Avenue on the first day of registration. He was there to register his four children — two for the Lowell Avenue clubhouse next to Monte Vista Middle School, one for the McKinley Elementary School site and a fourth child as a volunteer.
"For our family, this is an important thing," he said. "The after-school care, we're working parents and this really helps with that, but also is the friendships the kids get here. It's something I know that they will take for the rest of their lives."
About 800 kids a day take part in programs at the seven sites across Tracy — at Monte Vista and McKinley, Central School, Jacobson Elementary School, North School, South/West Park Elementary School and Villalovoz Elementary School.
Membership is $35 a child for the full school year. The clubs open Tuesday, the first day back to school for the Tracy Unified School District.
Cardoso's children have been in the Boys & Girls Clubs program for three years.
"We wanted to bring them sooner, but they kind of didn't want to at first, but now we can't get them out of here," he said. "They are first ones in and last ones out. Open gym dates and basketball — they are always here."
Before that, he said, it was always a balancing act. He would get help from a grandparent or either he or his wife would leave work early to pick up the kids from school.
"For parents that work the 9-to-5, that really is a difficult thing," Cardoso said. "It gives us a few more hours of work, but it actually has become a family tradition.
"I think more families should take advantage of it, especially being it's right at the schools. It's a win-win."
The clubs are open to students in first through eighth grades. When club members reach high school, they can return as student volunteers.
For registration, a table was set up for each of the seven sites where parents could find out whether there was space available. If it was already filled, they could put their kids on a waiting list. Junior Cueva, director of operations for the Boys & Girls Clubs of Tracy, said it wouldn't take long.
"We had a line wrapped the corner. It's our first day — a lot of our spaces really, really fill up fast," Cueva said. "It's just getting our kids re-enrolled. We have a lot of kids we lose out, they become eighth-graders, and we just pretty much open the flood gates until we fill up. Unfortunately, we have a cap at all our sites, so today is our biggest day, but we're looking forward to a really good year of keeping 800 kids off the streets every day."
The clubs' average annual enrollment is about 1,800, with kids who come in and out through the year or just play sports.
The clubs at North and Central schools usually fill up first and have the biggest wait lists. North School sees the largest number, with an average of about 140 kids a day.
"Our biggest thing is, how do we turn kids away?" Cueva said. "That's the kind of things that hurt when you can't physically find a spot for those guys."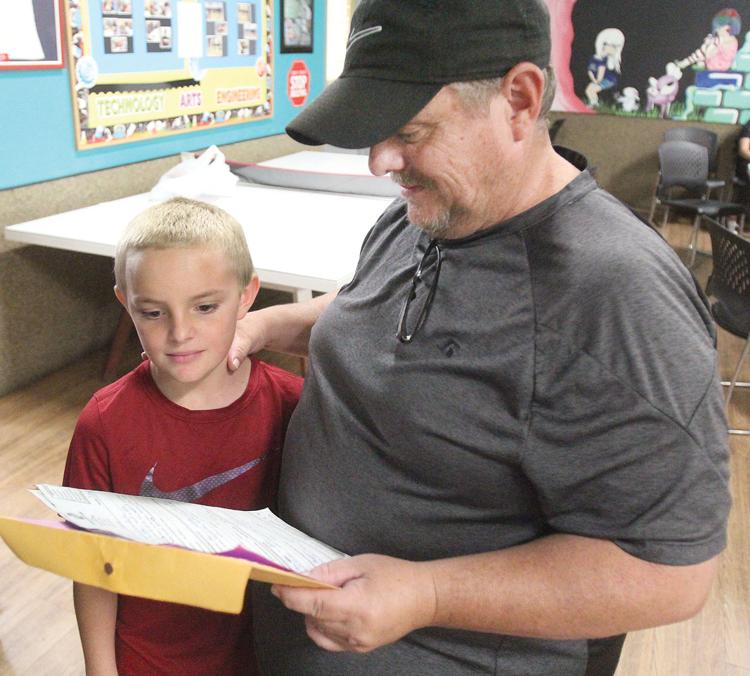 Josh Cardoso, 11, was ready to start his first year as a sixth grader the Monte Vista clubhouse after a couple of years at the McKinley site.
"They take care of you very well," Josh said. "They feed you, they let you play around, and they give you a lot of education and learning."
He was looking forward to meeting a new staff and new people and playing basketball at the Monte Vista Clubhouse. He said he had already learned a lot from the Smart Moves program.
"It's where you learn about growing up, and drugs and violence, and to stay away from them," he said.
As of noon Thursday, the Jacobson, Monte Vista and North sites were full. The Central, McKinley, South/West Park and Villalovoz sites were near capacity, with only a few openings for each grade level. Kids can still be added to waiting lists, and parents will be called after school starts when spaces open up.
"We change lives," Cueva said. "You can bring your child in here as a 6 year old who just became a first grader and, every single day until they go to high school, they are going to have homework help, they're going to get a free sport and free hot meal and groceries to take home on top of these other endless opportunities. We really are changing kids in these doors."