Julio Gonzales took his teenage daughter and some of her best friends to the first Tracy Food Truck Festival to celebrate her birthday.
"We're eating our way around the parking lot," he said. "We stopped at the taco truck first because my daughter Sierra Gonzales loves tacos."
The group was among hundreds who sampled different cuisines at the inaugural festival sponsored by WorkVine209 and Northgate Village on Saturday afternoon in the Northgate parking lot.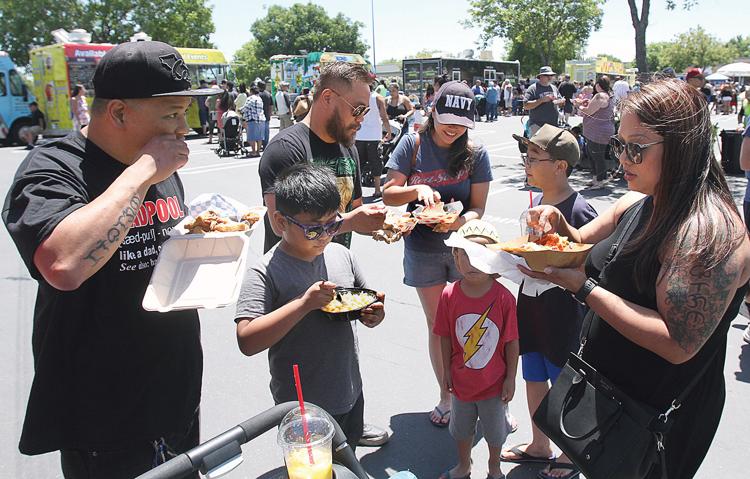 Gonzales and his group had been at the festival for about half an hour and were finishing up their first stop at the Antojitos Hidalguenses truck before heading to one specializing in flavored wings.
"I really enjoy coming here right now. This is going to be something I do yearly or whenever it's out here in Tracy," he said. "I definitely like the way it brings the community together and seeing different varieties of food and cultures and most of all spending quality time with family and friends,"
Eric and Lynda Hawkins, who run WorkVine209, were glad to see the crowd at the shopping center at the far northeast corner of town that once housed the Tracy Outlets.

"I think it went really well. When we planned the event, one of the purposes was to really bring back some life to the Northgate center," Eric Hawkins said.
An estimated 4,000 people visited the festival between 11 a.m. to 5 p.m. The 11 food trucks served tri-tip sandwiches, hot wings, cauliflower mac and cheese, shave ice and many other offerings.
"I talked to all the food truck vendors and they were really excited about how much response they got," Eric Hawkins said. "About four of them sold out of all their food before it was over."
He said planning for the festival was challenging because there was no way to know how many people to expect.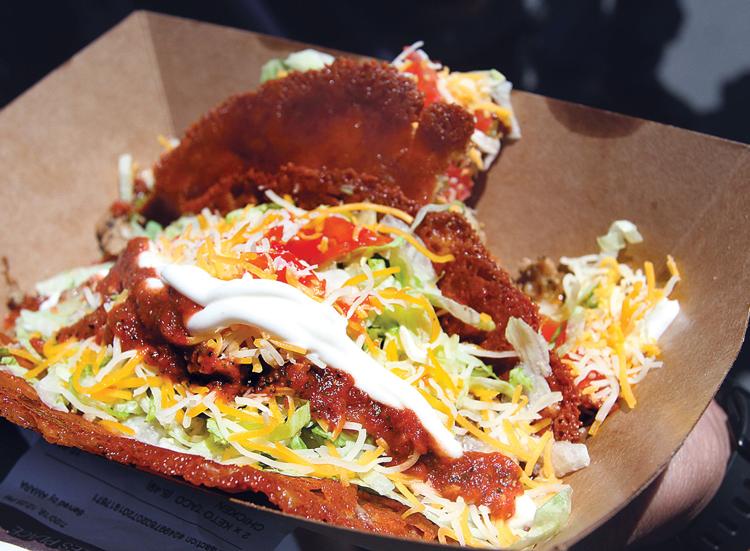 "We prepared for about 600 people throughout the day. Our seating might not have been as adequate as we liked, but for our first event, I feel like it is really successful," Eric Hawkins said.
The crowds arriving for the food also resulted in more visitors for the tenants at the shopping center.
"One of the furniture stores in our Northgate Village said he has never had that many customers come through his space ever until we had the event. So it was successful for all of us," Lynda Hawkins said. "It was also bringing the community together, and for just some small-business owners and startup businesses, we had a pretty successful event bringing that many people into Tracy."
Quinten Wetzel, 13, from Livermore, was in Tracy with his parents and brother to visit his grandparents when they decided to check out the food trucks. The family has made the rounds of similar gatherings before, and the teenager had a simple game plan.
"I try to find the best food and just get it," Quinten said.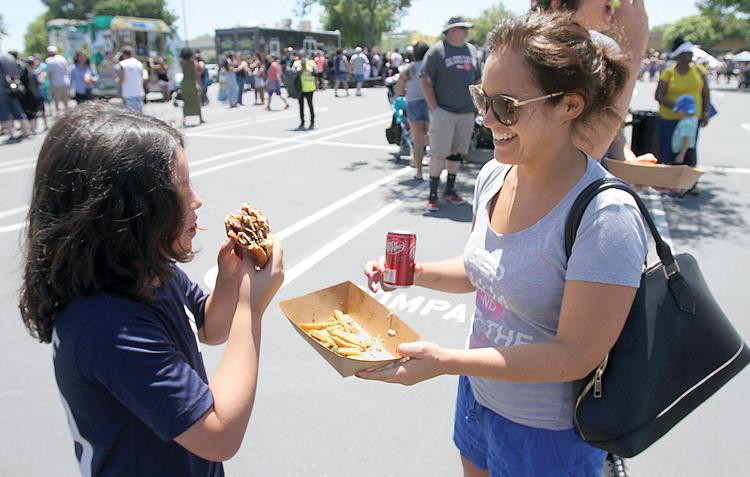 He was eating a tri tip sandwich with his mother, Cassie Wetzel, as they waited for an order of wings the family was going to share. He said he tried to avoid deep-fried foods and looked for things he doesn't have that often.
"I like the good hamburgers and meat sandwiches. It's basically a restaurant on a truck," he said.
The organizers are going to meet and discuss repeating the food truck festival, incorporating some improvements based on comments from people who attended.
"Probably before summer is over I'd like to do another one. We definitely talked quite a bit about some of the adjustments we need to make and make it better for everyone — maybe having 15 trucks and more seating and a more visible kids area," Eric Hawkins said. "We did what we could. I think it was successful. We brought the community out to enjoy one another, listen to some music, have some good food they haven't typically had and just have a great day."