Students from across Tracy Unified School District battled it out in the annual citywide spelling bee Friday in the Williams Middle School cafeteria.
The spellers, who had all won the spelling bees at their schools, competed in two divisions: elementary for fourth- through sixth-graders and junior for seventh- through ninth-graders.
Elementary division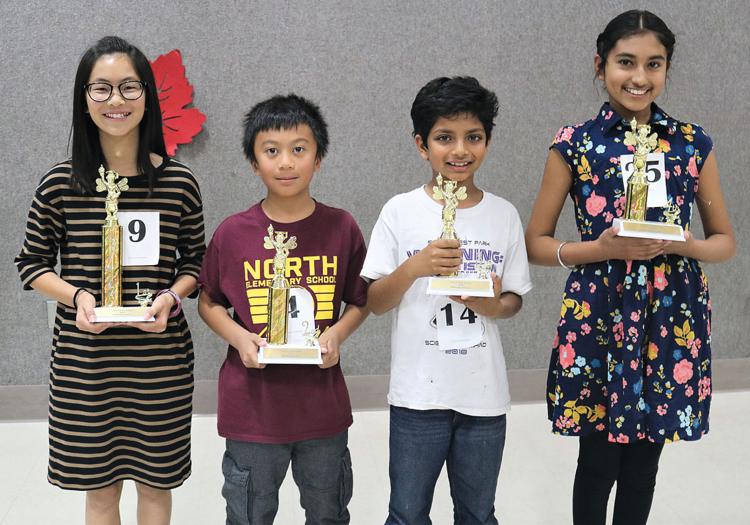 The elementary competition turned into a 14-round marathon with students spelling for nearly three hours to make it to the final four who will represent their school district at the county spelling bee in early December.
When it began, there were 25 students from schools around the city. At first the words they were asked to spell were fairly easy, such as "sauce" and "cotton," but things got progressively harder in the later rounds with words such as "dependent" and "twinge."
Taking first place was Kelly School sixth-grader Lily Ly, who had to spell two words in a row correctly to secure her victory: "course" and "occasion."
It was a return visit to the city spelling bee for Lily, but it will be her first time going to county. To get ready, she plans to "study, study, study."
"It was scary," she said after Friday's competition. "I wasn't nervous; it was fun because I've done it before."
Second place was awarded to North School fourth-grader Andrae Jaiden Raymundo, with South/West Park Elementary School fourth-grader Adhitya Sriram in third place and Freiler School fifth-grader Jugaad Bath in fourth place.
Andrae said he too was a bit nervous, even though he had also competed in the city spelling bee before. He is looking forward to his first competition at the county level.
"I just kept practicing (the word list)," he said. "Fun. I like them."
Junior division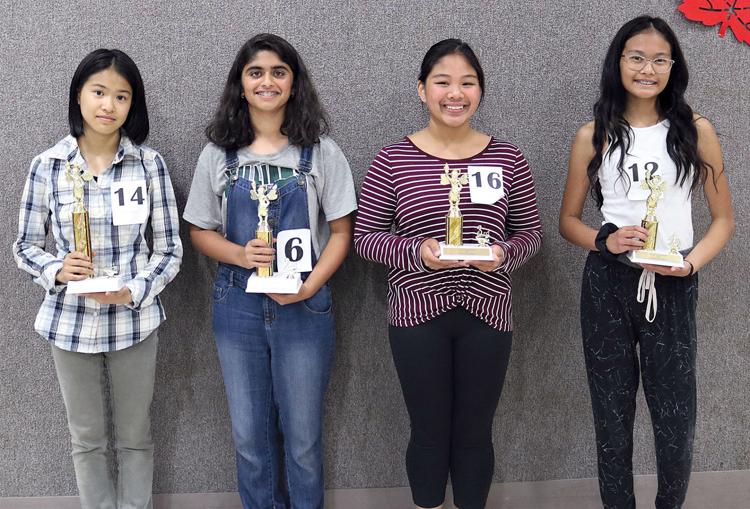 Several of the 23 junior-division students were knocked out of the competition within the first six rounds, and the rest battled through a total of 10 rounds to determine the winners.
The words they spelled in their nearly two-hour competition included "bayou," "caribou" and "inaugural." Williams Middle School eighth-grader Marjorie Cave took first place by correctly spelling "mistletoe" and "repertoire."
As the bee went on, Marjorie said, the words got harder and harder. She said it seemed to her that she mostly got the easy words to spell, while her competitors got words that were much more difficult. At one point, however, she said she was given a word she didn't know and guessed correctly.
She said this year will be her second time at the county spelling bee after going when she was in sixth grade.
"Spelling bees are scary because you don't know the words you're going to get," she said.
Rounding out the top junior-division spellers are eighth-grader Roocha Thatte of Williams Middle School in second place, seventh-grader Reitchelle Balderas of Freiler School in third place and eighth-grader Kaytlin Rosales of Poet-Christian School in fourth place. They will also go on to the county bee.
Elementary-division spellers from around San Joaquin County will go through an elimination round Dec. 3. The finals for both divisions of the spelling bee are open to the public Dec. 5 at the Wentworth Education Center, 2922 Transworld Drive, in Stockton. The elementary division will begin at 3 p.m., followed by the junior division.