Tracing Tracy's Territory
Fond memories central to final school tour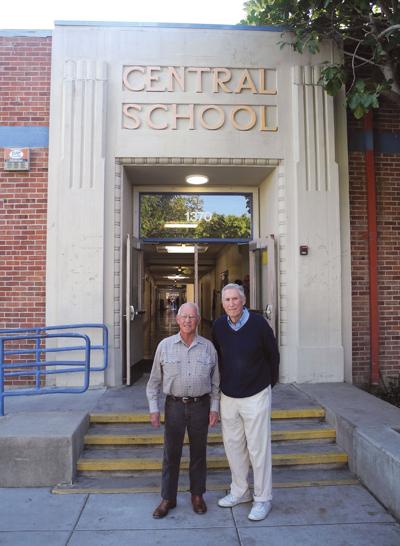 Two "alumni" at Central School had more than a casual interest in showing up at the Sept. 30 open house in Tracy's oldest school building, which will be demolished next year to make room for a new building now under construction in what has been the school play field.
The two gray-haired guys in the photo were Alvin Perry, left, and your hometown columnist.
I normally don't include myself in photos run in the Press, but I am proud, as is Al, of being a member of the first first-grade class when the school was opened in 1938 — and thankful to still be alive and mobile enough to walk the halls and visit classrooms to celebrate the anniversary.
Initially in the fall of 1938, Alvin and I had attended first-grade classes in what was the original Central School on Central Avenue while construction of the new Central School at Parker and Eaton avenues was being completed.
Finally, the move, originally scheduled for the day after Labor Day 1938, was made to the new school on Nov. 14. We entered the same front door in use today and had a chance to look around. Boy, were we impressed with what we saw: a handsome brick-faced building with modern classrooms brightly lit by sunlight from large windows and equipped with new-style desks, complete with attached chairs. The first graders were divided into classes across the hall from a first-class cafeteria — which also served as a kindergarten classroom and school auditorium.
It was quite a change from the old Central School, which had a rough, dark gray stucco exterior and old-style classrooms and dank corridors. It was a 1912-era two-story building with a half-basement where the boiler room and kindergarten classes were located.
On my recent visit to today's Central School, the soon-to-be demolished classrooms and well-polished floors of the corridors looked and even smelled a bit like they did 80 years ago. The school may be old, but it has been well-maintained.
As I looked around the corridor, I saw longtime kindergarten and first-grade teacher Char Bisbee being greeted by former students. Besides Alvin, I didn't see any other of my first-grade classmates, but Carolyn Hagmeyer Taylor, who was in the school's first third-grade class, was there.
I didn't want to seem too melancholy, but as I walked the halls and entered my first-grade classroom, I couldn't help recall at least some of my classmates of eight centuries ago. Many, like Margery Monnich, whom everyone knew was the smartest kid in the class, are long gone, but some still survive. I promised myself to contact Myron Crow in Boise, Idaho, and Pat Ellis in Rio Vista to let them know what is happening to their old school.
Of course, back in 1938, we also knew who was in charge. Elsie Salcido had been Central's principal since the 1920s — and was also the school's second-grade teacher. I keep telling Nancy Link, Central's current principal, that she's looking more like Elsie Salcido all the time, and she knows I mean it as a compliment.
Construction of the new Central School is scheduled for completion early next year. At the same time, work is moving forward rapidly on the new Tracy Learning Center, and reconstruction of portions of North School will soon begin. As I've mentioned before, without any doubt, Tracy school facilities can match those of any town in California.
The new Central School will take its place next spring among the current generation of school facilities. That's when today's first-graders will get their first look at what's inside their new school. They, too, like the two old "alumni" in the photo, will have something to remember for the rest of their lives.
Sam Matthews, Tracy Press publisher emeritus, can be reached at 830-4234 or by email at shm@tracypress.com.