Fitness and craft classes, clubs, and other activities are back at the Lolly Hansen Senior Center after eight months of work that added more room and the potential for more programs.
On Wednesday morning, women and men spread out across the expanded multipurpose room as they moved to the music at a "Barre For Active Aging" fitness class. In the past, people had to arrive nearly an hour early to find a spot in the class, which was often crammed past the 50-person capacity.
Now that renovations have added 2,100 square feet onto the 5,200-square-foot original building, including a 1,000-square-foot addition to the multipurpose room, up to 65 seniors could comfortably take part in Wednesday's class.
City Parks & Recreation Director Brian MacDonald said the renovations went far beyond the simple upgrades that were originally planned.
"If you look at it and you walk through, it's like a new center," MacDonald said. "You've got new plugs, new doors, new lighting, all new fixtures, carpet, flooring, a new big-screen TV, new sound system — I feel that we really delivered a product here instead of a remodel."
The senior center, which originally opened at 375 E. Ninth St. in 1987, also has a new roof and landscaping, a remodeled kitchen, and a new fire suppression system with sprinklers.
In all, the work cost $2.3 million and was paid for with Community Development Block Grant funding, developer impact fees for the building expansion, and funding from Measure V, an added half-cent sales tax authorized by voters in 2016.
"This is a community benefit. This is for our senior community," Recreation Services Supervisor Jolene Jauregui-Correll said. "We want them to know this is a place for them to use, there is so much for them to do. It's not your typical senior center. It's a very thriving, active adult center."
She said the focus of the renovations was the needs of Tracy's older adults, who resoundingly asked for one thing: "Space. They wanted more space."
"We really listened to the seniors," she said. "They had a hand in everything, from the paint selection of cool colors to the type of flooring for fitness and yoga."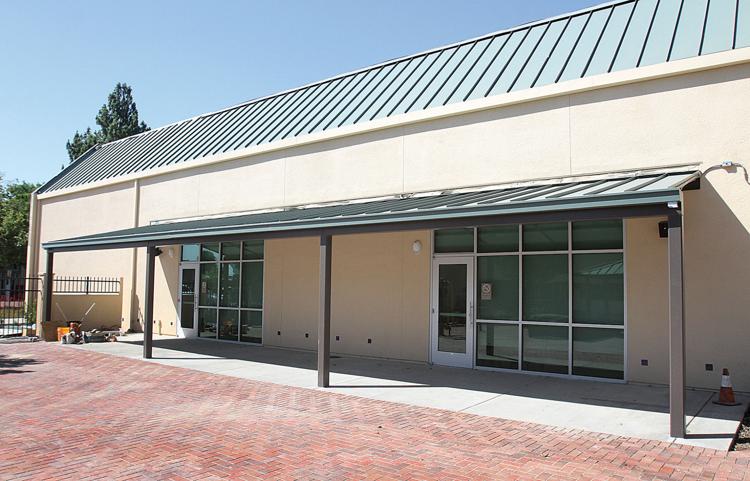 A soundproof partition can divide the expanded multipurpose room into two areas with room for 71 and 131 people.
"You can have a Zumba (class) on that side and serve lunch and you barely hear a thing," Jauregui-Correll said
Other changes included converting a storeroom into a computer lab, adding an 800-square-foot classroom, putting in new windows and building a shade awning to allow outdoor activities out of the sun.
At some point, MacDonald said the city may begin renting out space at the senior center during off hours. Rental fees would go back into the center's budget to pay for more class instructors and more programs.
"Fitness is huge right now — it's $1 a class, pay as you come. It's not like a monthly fee," he said. "We see a lot of those baby boomers into the more active activities rather than crocheting and bingo that are the typical things we host here."
Another plan is to add classes and seminars later in the day.
"Right now our operating hours are 8:30 a.m. to 4 p.m., so we are looking at doing until 7 or 8 p.m.," Jauregui-Correll said. "That's about six months out. We're really looking at research, trends, benchmarking other cities. What's working, what's not."
MacDonald said the expanded hours might appeal to people who don't think of themselves as seniors. Most of the programs are open to anyone age 50 and up.
"For the working adult over 50 has a place to go that's affordable. We're talking about expanding fitness classes later in the day," MacDonald said. "The big thing for us is we have to have the resources too. Staffing levels, we're limited because we have a lot of part-time staff that can work a certain number of hours, so that will be the challenge how we staff afterhours, after 4 o'clock."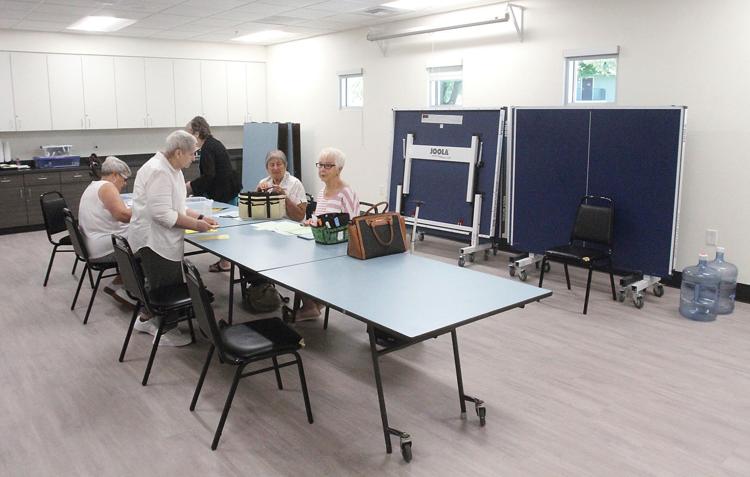 Johanna Mattson-Nunley has been going to the senior center for more than 10 years, starting with a painting class. On Wednesday, she was getting ready to take part in a card making class, which she called "very good therapy."
"This is fantastic to make cards here," Mattson-Nunley said. "Seems like everybody has enough room and there is storage in there and the card makers who run the class have storage and that's important."
She was happy with the changes made at the senior center in the months it was closed.
"It's utterly gorgeous. It looks really, really high class," she said. "Glad to be back here."