It should surprise no one familiar with the 1960s and 1970s that cars have gotten smaller. Stating the obvious, by today's standards, the Toyota Avalon is a large sedan. Compare the Avalon to a 1976 Chevrolet Impala: The Impala was 222.7 inches (18.5 feet) long while the Avalon is over 2 feet shorter. Now compare the Avalon to the Camry and it looks big, even though it is only about 3 inches longer than the Camry.
The Avalon used to be called Toyota's Buick and it wasn't a compliment. The Avalon was aimed at older buyers — not me! — not only for its size but for its boulevard ride. (Buicks really aren't like that anymore.) Toyota finally caught on that the number of potential customers who wanted their car to be softly sprung and under-damped, and with an overstuffed sofa as a seat, was rapidly shrinking. Today's retirees might like their comfort, but a large number don't want a car that wallows. The '19 Avalon is very comfortable but still responsive. Good job, Toyota.
Something I've noticed when driving hybrids, and the Avalon was no different, is that I tend to drive a little slower. I ease onto the accelerator, always trying to keep the gasoline engine from kicking in for as long as I can. Even though it "only" has 215 horsepower (a combination of gas and electric), it is capable of reaching 60 mph in under 8 seconds — and the Avalon weighs 3,700 pounds!
The Avalon Hybrid is powered by a 2.5-liter four-cylinder that makes 176 horsepower and an electric motor that adds 118 horsepower. I realize this doesn't add up to 215; there is some formula that I don't understand to measure hybrid power. The power travels through a continuously variable transmission and powers the front wheels.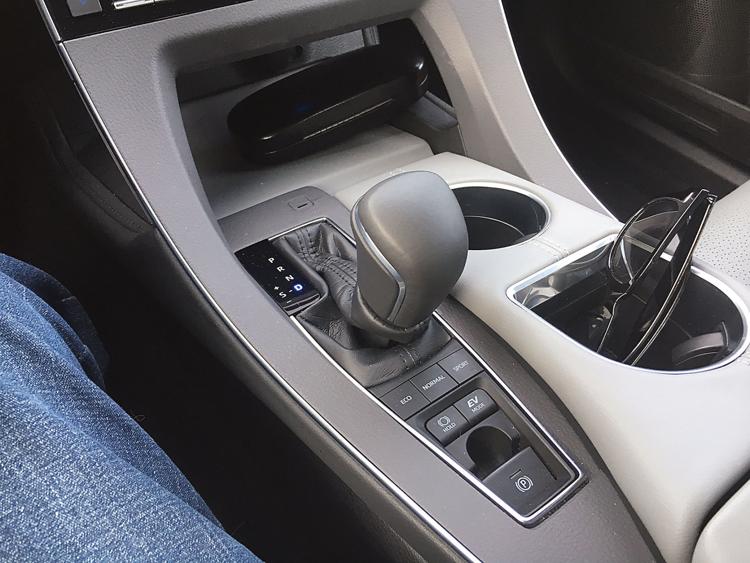 A huge thank-you to Toyota for retaining a gearshift lever. Yes, there's still an overabundance of buttons, but it is nice to have a good, old-fashioned lever to shift with, something I don't have to look at to select Park, Reverse, Neutral or Drive. (My work has a truck with a non-operating gear shift indicator; some of the young guys complain that they can't tell what gear it's in without the little needle moving!)
Toyota says the Avalon Hybrid Limited is rated at 43/43/43 mpg (city/highway/combined). I'm going to have to drive even more sedately than I did because I only saw 35 around town. Now, 35 mpg around town is darn good for a full-size sedan, but it is low by the EPA rating. To put this into perspective, a nonhybrid Avalon Limited with the V6 is rated at 22/31/25.
The Avalon, any Avalon, is a true five-seater, four-door sedan. I mean four of me could comfortably fit in the Avalon while five more svelte folks would fit nicely. Quite often a hybrid has less trunk room than its nonhybrid siblings. Not the Avalon Hybrid — both have 16.09 cubic feet of storage in the trunk.
Now, I don't need a large sedan; there's only the two of us. But it was nice to drive around in a car with so much room. If we had gone out to dinner with another couple, no one would have been short of leg room. And if we were to go on a trip, no matter if we were on a highway or back road, we'd arrive relaxed.
Toyota seems to have priced the Avalon to sell. A base Avalon (nonhybrid) starts at $35,650, and the Hybrid starts at just $1,000 more. The Avalon Hybrid Limited that I tested starts at $42,950 according to Toyota's website. The test car had a $1,150 Advanced Safety Package that I'd like to think I could live without, but truth be told it's not a bad idea to add safety features. I am getting used to some of the safety features, like the blind spot alerts — a light in the side mirrors to alert you if a vehicle is in your blind spot.
The only question I have for Toyota is: Why build such a nice car that might compete with a Lexus?