Walking, talking about suicide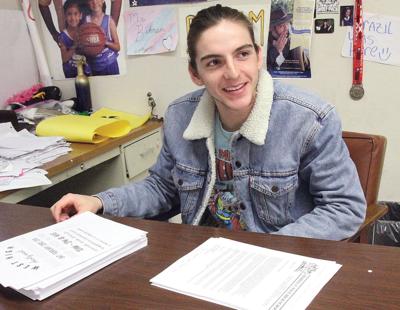 When West High School junior Nathan Campbell talks about the day a year ago when he found out his uncle had killed himself, tears still fill his eyes.
"I was at a track meet that day and I was waiting for my mom to come pick me up and she wasn't texting me back and I was like, 'Well, what's wrong?' and then my dad came to pick me up and that's when he told me and it was just shocking," Campbell said. "None of my family expected it. We didn't know why. It was just a lot of confusion, a lot of self-blaming. It affected us a lot."
A young Nathan Campbell spends some time about 15 years ago with his uncle D.J., who died by suicide Feb. 22, 2018. Nathan Campbell, now a jun…
Nearly a year to the day of his uncle's suicide, Campbell will walk alongside classmates and community members as the organizer of the first Suicide Prevention Walk at West High.
The walk, from 10 a.m. to 2 p.m. Feb. 23 in the school quad, is designed to give people of all ages the tools to talk about their feelings and prevent the pain Campbell's family has gone through.
"It's hard, like, every time I talk about it. It affected my family and I just want to prevent it from happening to other people, other families," he said. "I organized the walk mainly to basically educate the people of Tracy, teens and preteens, there are ways to reach people and contact people. It's a heavy topic that not a lot of people like to talk about, so — I want to be able to spread awareness in a positive way and in a fun way through a walk."
Some people will be walking for pledges to donate to Yellow Ribbon, but anyone can drop in and walk the course through the quad.
Campbell's goal is to reach teens and others in the community who might be having suicidal thoughts and not know where to turn for help.
"I just want to be able to help people with those thoughts or feelings and basically give them a chance to express how they feel so they don't feel alone and they don't feel like that's the option, because it's not the only option," he said. "I just want to educate people to know the signs, so when they see the signs, they know who to contact, how to approach the situation and handle the situation. How to reach out to them, how to make them feel safe and comfortable, and how to make them feel they are not alone."
West High leadership teacher Scott Behnam said more needs to be done to discuss suicide and suicide prevention with young people.
"Suicide is such a taboo subject. It is swept so much under the rug," Behnam said. "The pressures these kids have, just socially from their media, the bullying, the things that gets in their head. It's an unfiltered wild, wild west on social media. We do have resources. I don't know if we do a good enough job getting that out to our kids."
The walk is open to anyone in the community.
"It's for the people who are struggling but also for the families that have been affected by someone they love taking their life," Campbell said. "You don't know how many people are affected until it happens to you. With this walk getting everybody together, it's going to be eye-opening to a lot of people."
He has reached out to the other high schools to take part and also hopes to see younger kids who will be in high school soon.
"I remember my freshman year, I felt alone some of the times," he said. "It's a lot of stress — you got to start worrying about college, your grades. It means a lot more when you're in high school than obviously when you're in seventh and eighth grade.
Behnam thinks most adults don't understand what youths are facing today.
"The average person has no concept of the pressures our society is now putting on these kids — from race to sexual preference to religion to grades to what you have to look like to political preferences," he said. "If these kids are not proactive about it, it's going to get ugly, and people don't really understand. And this is why it is so critical and important and it has to be done by the kids for the kids, because they are the only ones who really invest and understand what they go through."
Meghan DaSilva, a West High senior, said she had gone through tough times in her school years.
"I think there are good resources for kids who feel they can't go to the administrators because they are worried about their parents finding out about stuff they are going through or getting in trouble, because it can be scary talking about your problems with people you think you can't trust," she said. "It's just hard to talk to certain people, especially adults, when you're a teenager."
Neither Campbell nor DaSilva remembered hearing anything about suicide prevention in their middle school years in Tracy.
"They do a lot of presentations on bullying, but I feel like they don't do a lot of presentations about internal conflicts and what you're going through whether you're being bullied or not," DaSilva said. "Life can still get hard and things just happen, like not even intentionally, you can go through hardship."
Behnam hopes the walk will grow far beyond the school's boundaries.
"I want this to be something that happens every year and as big as it can be, and I want everyone who feels Nate's pain to come there," he said. "Together we can all at least share that, hey, we've gone through this human condition thing together, we're not alone, and let's try to be more proactive."
Campbell hopes the walk will start a conversation about suicide prevention with high schoolers and middle schoolers.
"It's just something that you think, like, it's not going to happen to my family, it's not going to happen to me," he said. "And then once it does, it's kind of like you're hit with reality. There are people out there that actually need help."