Tracing Tracy Territory
Winter in Tracy, now and yesteryear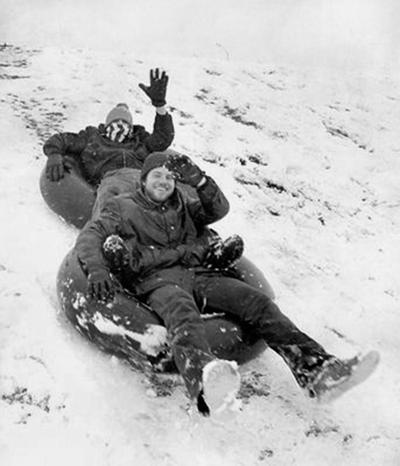 Snow covered some of the higher reaches of the Altamont Hills on Tuesday morning, and temperatures in Tracy have dipped below freezing on several mornings. Winter has come to Tracy.
And just maybe, more white stuff could be on its way in this weekend's predicted storm.
But predicting the arrival of snow in or near Tracy is an inexact science.
Such was the case 43 years ago. Forecasters projected cold temperatures for the morning of Feb. 5, 1976, but they said it could only be a light dusting of snow on Mount Diablo and even Mount Oso south of Tracy.
That cold winter day turned much differently — and with a lot more snow — than predicted, however. The heaviest amount of snow in recent history, at least, fell on our town and surrounding territory.
Although measurements were somewhat imprecise, the snowfall was estimated to have totaled 3 or 4 inches, and the white flakes didn't arrive all at once, but fell over much of the day.
The first snow fell in the early morning hours and greeted awakening Tracyites when they first spotted lawns and roofs covered with white.
The early snowfall lasted a couple of hours. By the time it ended, snowmen began appearing on a number of front lawns; snowmobiles raced around the Tracy Ballpark; and sleds started carrying youths down the berm on the west end of Dr. Powers Park.
It appeared that was the end of the snow. But at mid-morning, to many people's surprise, it started snowing again, and kept snowing into the early afternoon.
As the snow continued to fall, there was more frolicking in the snow. City crews poured sand over several slick spots and even rented a fertilizer spreader to spread sand.
Just before the snow stopped falling around 2 p.m., Tracy Police officers went to a local auto supply store to buy snow chains, but it turned out the chains were not needed as the snow began melting.
Although the Feb. 5, 1976, snowfall is believed to be Tracy's heaviest, other snowfalls were reported in Tracy over the years. In the 19th century, the "biggest blizzard" was said to be in 1887, and in 1922, a winter storm blanketed Tracy with approximately an inch or two of snow.
In addition to the sight of snow in the higher elevations of the hills on Tuesday, the low temperatures recorded earlier this week added to the winter atmosphere. Chilly, yes, but a long way from Tracy's record cold. That was 12 degrees on the morning of Dec. 23, 1990.
Happy winter. Spring can't be far behind.
Sam Matthews, Tracy Press publisher emeritus, can be reached at 830-4234 or by email at shm@tracypress.com.